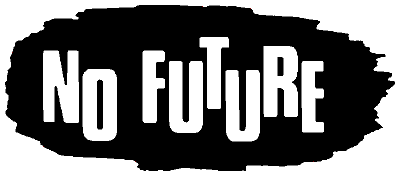 Blitz - Album Liner Notes
I was honoured to be contaced by Victor of Vomitopunkrock Records asking me if I would write the liner notes for the forthcoming Blitz LP "The Other Side Of..." on his record label. How could I resist, and here they are.
I was working part time at a petrol (gas) station in 1983, when a friend popped in with a cassette tape and asked me to listen to it. "Wow! This is something special, who is it?". "Blitz" he replied. And the rest, as they say, is history. By the weekend, I owned a copy of that Voice Of A Generation LP and was wearing it out quick. I also wanted more.
1983 was well before the modern era of the internet. Fortunately, UK music papers such as Sounds and NME had introduced me to a couple of record mail order companies who were able to help. Within a few weeks, I had a fairly complete Blitz collection. I was also aware of the different direction taken by the band with their Second Empire Justice LP. I'm afraid that this LP and the associated singles on Future Records did nothing for me. New Age, however, remains a classic song, and Fatigue on the 'B' side is as good as (nearly) anything on Voice Of A Generation.
Without doubt, Blitz were a major contributing factor for me collecting all things No Future, and I still remember my friend and I sitting in that petrol station trying to work out all the No Future releases. The aforementioned mail order companies received a lot of my wages. I'd also heard about the blank labelled All Out Attack EP, and a local record fair was able to fill that omission several years later.
It was around that time that I also stumbled upon The Killing Dream LP in a local record shop. I could see from the cover that it was just Nidge Miller with Gary Basnett from Attak, but bought it out of curiosity. This album splits Blitz fans more than the Second Empire Justice album does. Personally, I love it. It is a long long way from the raw power of Voice Of A Generation, but it is refined, well produced and musically pleasing to my ear. Those expecting it to be the same could have been quite disappointed with it, as I know many are. There are, however, just as many who treat it as a musical direction change, but nowhere near as much as that which the Second Empire Justice album took.
However, I was still missing the hand stamped copy of All Out Attack. By now, the internet had arrived and I performed a few internet searches for a copy of this record. I noticed that there was a surprising lack of information about No Future Records and their releases. Coincidently, I was looking for an idea to get something of my own on the internet, and the idea of a website dedicated to No Future Records was conceived.
The development of this website in 2001 led me to contact various bands through their websites for information. Social media, such as MySpace and Facebook, were not around at this time. Nidge Miller had included his address on the All Out Attack 12" repressing, so I sent him a letter hoping that he still lived at that address. I got a reply, but Nidge did not have a computer so could not see my website or email me. However, he passed my details to Gary Basnett who did make contact. He was able to help me with a number of questions, including Mackie's first name.
It was in 2004 that Nidge made email contact with me, and within a year we both had MySpace accounts (an early form of social media for those that don't know) and were conversing regularly. Nidge was about to reform the band's name as Nidge-Blitz and embark on a tour of the USA. Nidge chose to play alongside the North Carolina band Empire Falls, who allegedly have RAC connections. The tour was curtailed for this reason, and Nidge regretted his choice of band in hindsight.
Nidge and I kept in touch via social media over the next couple of years and although we never met, I did consider him a mate. We talked about records and all sorts of stuff, and how excited he was to (yet again) revive the Blitz name and go back to the USA on tour. This time with a more reputable line up including Steve 'Cast Iron' Smith from Red Alert on vocals.
Just before he left for the tour in January 2007, we'd talked about the No Future test pressing of the Voice Of A Generation LP that I owned. Nidge suggested my copy was not genuine (it is, I've checked) and asked me to make him an offer on his personal copy, and he'd even sign it for me. I made him a decent offer just before he left for the tour. He never got back to me.
On February 10th 2007, shortly after a show at Emo's in Austin Texas, Alan Paul Nigel (Nidge) Miller was hit and killed by a car whilst crossing a road.